SEO: 6 techniques for finding long tail keywords


The more popular a keyword , the more difficult it is to rank well on it in Google search results.
This is why it is often much more productive for SEO to turn to long-tail keywords that are less popular, but also less competitive.
Here are just 6 unstoppable techniques for uncovering long tail search phrases that will help you create optimized content from scratch or enrich your existing web pages.
Technique # 1: Use Google Related Searches
This is certainly the easiest technique for discovering long tail keywords.
Start by searching on Google for a generic keyword, for example "coffee machine":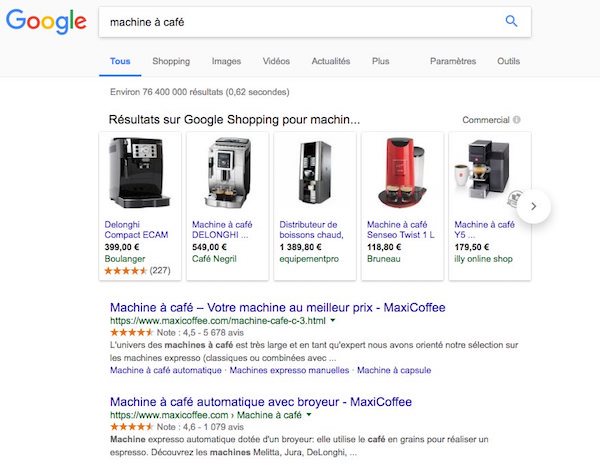 Then scroll down to the "Related searches" section: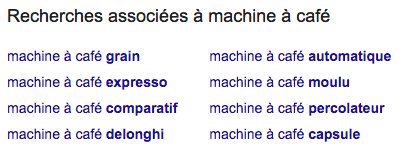 You will discover a selection of similar keywords, but longer and more precise (such as "ground coffee machine" or "percolating coffee machine") on which you can rely for your natural referencing.
But it is possible to go further:
Click on one of the suggested terms, for example "coffee bean machine", then look again at the associated searches.

You will discover new possibilities for long tail keywords, such as "cheap bean machine".
Techniques # 2: Get Keyword Suggestions With Amazon
If you own an e-commerce site, you know how difficult it can be to rank higher than giants like Amazon in the search results.
Still, imagine that you can use # 1 in online sales to your advantage to boost your long tail SEO (also take a look at these techniques to rank better on Amazon ).
To do this :
To do this :
Go to Amazon and enter a keyword in the search bar (eg, "vacuum cleaner").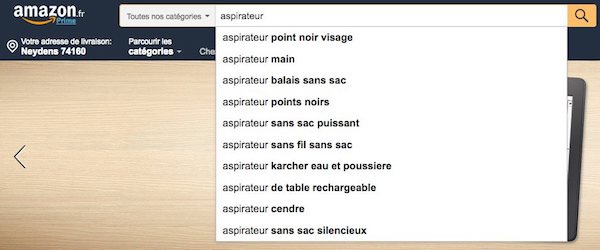 You will then see suggestions for keywords related to your product.
Give up generic formulas and use these more specific expressions in your product and category sheets in order to increase your chances of being well referenced (and thus gain traffic).
What's more, these highly targeted keywords have a strong converting power : what more could you ask for from an e-commerce site?
Technique # 3: Look for long tail phrases on forums
Discussion forums are a great way to find out what words people are actually using on a daily basis, which can spot some very interesting long tail keywords.
However, it would be too laborious to explore all the forums on the web to find this valuable information.
Fortunately, there is a very easy way to do this:
Go to Google and type in "inurl: forum +" followed by the expression of your choice (for example "dog food").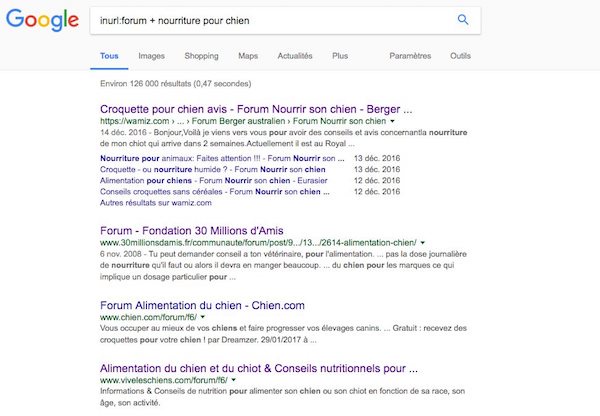 You thus access SERPs which only contain forums.
Take a tour of the best results: it won't be long before you identify ideal keywords for long tail SEO.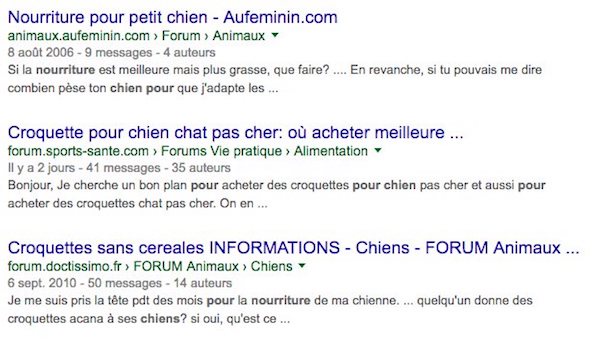 In our example, we find very targeted phrases like "food for small dogs", "cheap dog food" or even "grain free kibble".
Technique # 4: Use Answer The Public to find out what internet users are asking
One of the most effective ways to phrase a long tail keyword is to write it down as a question. .
Remember the last time you asked yourself a question:
Your first instinct was probably to ask Google for the answer directly.
And you are not the only one: imagine that questions like "why the sky is blue" or "how to read a gray card" have a significant volume of research.

What's more, interrogative sentences increase your chances of getting a Google snippet and thus being propelled to the number one spot in search results.
As things are well done, there is a free tool capable of guessing the questions that Internet users have on any subject: Answer The Public .
To use this tool, start by selecting "FR" from the "Language" drop-down menu, then insert the SEO keyword of your choice.

You then access the results in the form of a tree: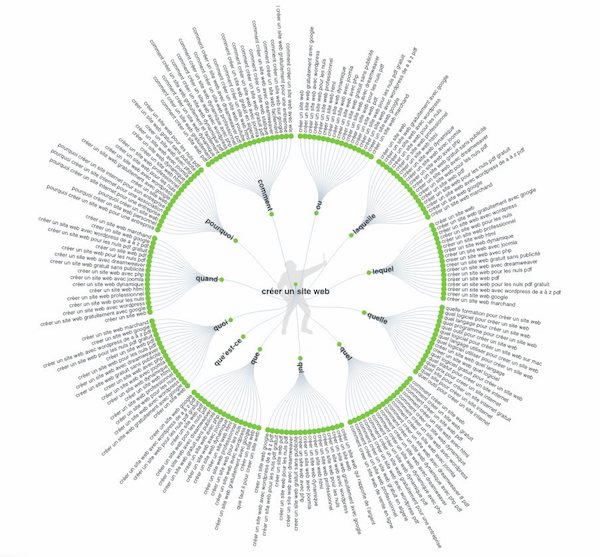 This lists the questions most frequently asked by Internet users on the subject, sorting them by adverb (how, why, etc.)
Scroll down to access other types of trees, or click on the "Data" tab to see data in columns: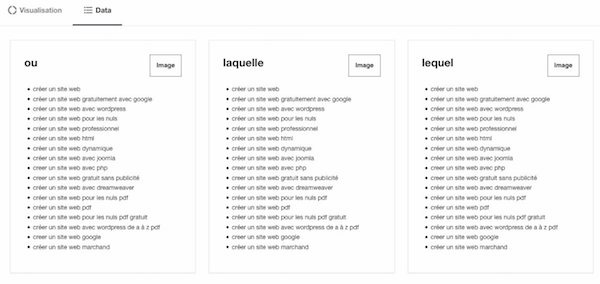 Answer The Public is therefore an excellent way to know the questions that Internet users are asking themselves to make them very powerful long-tail keywords.
Technique # 5: Finding Keywords Using Pinterest
Do you know Pinterest ?
This social network for sharing images is, a priori, not a formidable tool for researching long tail keywords. And yet …
Start by typing a basic phrase into the site's search bar (eg, "leather jacket").

First take a look at the automatic suggestions which will give you some clues (which is reminiscent of the Amazon-based technique):

You can then admire the photos, but that's not the most interesting. Focus on the categories that appear just below the search bar:

Add these terms at the end of your primary keyword, and voila! You get a whole slew of ideas for long tail phrases.
In our example:
Men's leather jacket
Black leather jacket
Biker leather jacket
Winter leather jacket
Gray leather jacket
Etc.
Technique # 6: Use Google Trends to Find Related Queries
Google provides us with a very useful tool that we sometimes tend to forget: Google Trends .
Search for your primary keyword to access interesting information, including the popularity of that query (you wouldn't want to bet on a phrase that no one is looking for anymore …)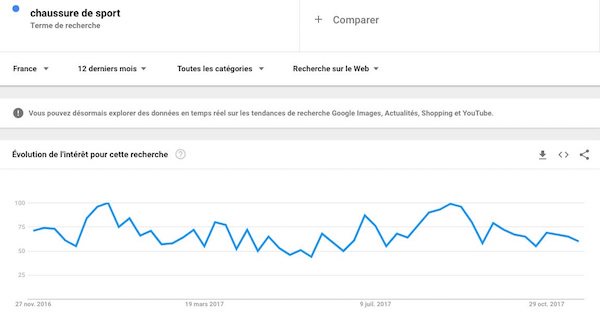 But the functionality that really interests us is a little lower: it is the "Associated queries".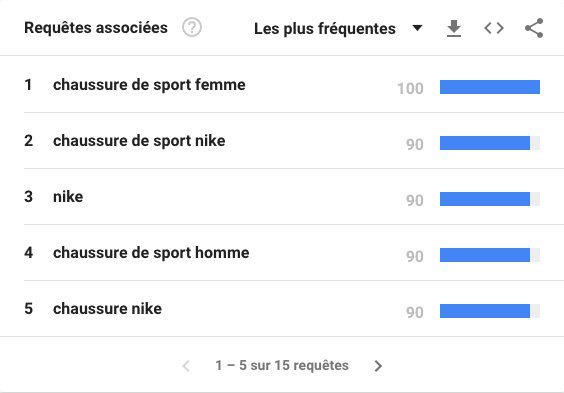 Another easy and effective way to find long tail keywords related to your product or main topic.
Technique # 7: Identify Related Keywords on Wikipedia
No doubt you know this online encyclopedia to find definitions, to know the palmares of certain actors or to discover the expected release date of the latest version of your favorite software … But think about it: Wikipedia does not happen often at the top of your web search results?
This is a sign that the free encyclopedia is unbeatable in terms of SEO. So consult the pages related to your main keyword and your theme to find ideas for long tail keywords.

Very often, the most relevant appear even in color and underlined, since they have their own Wikipedia page to which they are linked. You can navigate through the keywords to expand your long tail.
To finish
There are of course other ways to find long tail phrases for SEO, starting with using keyword research tools. .
But these six techniques, sometimes little known, are worth trying to give a good boost to your natural referencing.